Latest Party News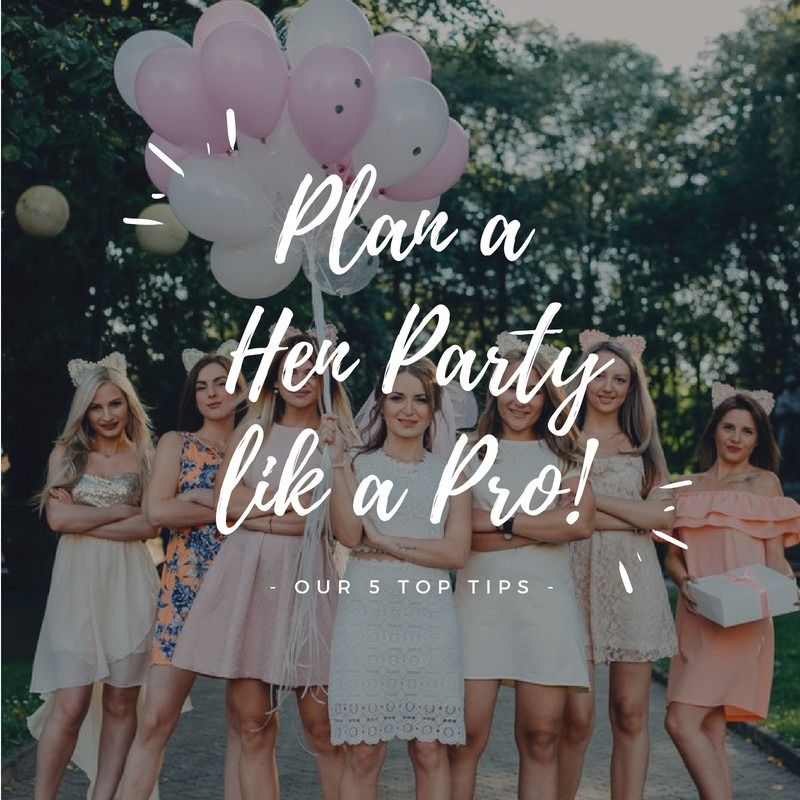 Our 5 Top Tips for Planning a Hen Party Like a Pro
You can't wait, your best friend is getting married and she's asked you to be her maid of honour…Yippee!! But before you get waaaay too excited about how great the big day is going to be, there is the not-so-small task of planning a killer hen party. No pressure. After all, you need to give her the perfect send off on her journey as she says goodbye Miss hello Mrs, right?
We're sharing with you our 5 top tips for planning a Hen Party like a Pro.
1. Plan a "Hen Chat"
Seems obvious right? If you're planning your BFF's hen party then start off by asking her what she's hoping for and if she would like to be involved with any of the organising. If she wants to leave all the planning down to you then ask her a few questions. Would she like a weekend away? Does she prefer the idea of raving in Ibiza or a quiet country retreat? Close family and friends or work colleagues as well? It's best to know all these things now rather than having any awkward surprises on the day.
2. Set a Budget
The cost of a hen party can be a deal breaker for some. Make sure you set a realistic budget for your girl tribe and try to be upfront with everyone about the cost. You could even put forward a few budget options to see how much the attendees are happy to spend. Remember to include all transport, accommodation, food, nights out and activities. Once you have decided, ask all your guests to have their money paid up in advance. That way you can enjoy the day rather than worrying about chasing people up!
3. Be Flexible
Remember, your girls are all going to be different. You might have pregnant friends, 70-year-old grandmothers, young mums and ladies with a little less to spend. Bear this in mind when planning; be flexible. Why not offer a few options outside of your main plan? Rather than everyone having to go away for two nights, offer one night or just the afternoon activity and meal. That way everyone is happy, and no one is missing out.
4. Communicate
Communication is key! Set up a Facebook Group Chat and invite all the hens to join, this way everyone is getting the same message and it's a sure-fire way to keep everyone updated throughout the planning. When the hen party draws closer, send out an itinerary and exchange mobile numbers too.
5. Don't Forget the Special Details
Once everything is booked, you can have fun looking for some cool accessories. Yes, this might seem like extra hassle at the time, but we promise these little details will make for a truly special day and shows your bride you've put lots of thought into everything. For inspiration take a look over on our Pinterest Board. Here are a few ideas to get you started…
- Planning Hen Party Games
- Finding Accessories for the Bride Tribe.
- Decorating the hotel room/house/venue
- Creating some awesome Hen Party Goodie Bags
Read More...